Features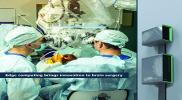 Edge Computing Leverages Modular Power in Scalable Micro Data Centres - May 2022
Edge computing is essential to realizing the full potential of artificial intelligence (AI), machine learning and internet of things (IoT). These technologies are being infused into every corner of...
More details...
Power Electronics Europe News
Designed with a high safe operating area (SOA), the AONS32310 by Alpha and Omega Semiconductor is for hot swap and e-fuse use...
Efficient Power Conversion (EPC) says its latest FETs double the performance of its earlier generation and are half the size....
A reference design for a high power density 65W quasi resonant (QR) charger targets mobile phone and laptop computers...
The company has raised the maximum operating temperature of its coin-type EnerCera Coin battery to 105°C....
The IGBT modules and IGBT inverter power stacks are suitable for a range of renewable energy and transport applications....
Taiwan Semiconductor's TS19501 AEC-Q100-qualified LED driver handles a wide input voltage range of 4.2 to 42V....
EDT2 and packaging technologies combine in the HybridPack DC6i which is optimised for hybrid and small battery EVs....
Vertically stacked ceramic capacitor models improve performance in a smaller footprint, says Knowles Precision Devices...
The InnoSwtich3-AQ is an AEC-Q100-qualified flyback switcher with integrated 750V MOSFET and secondary-side sensing....
Package technology allows a decrease in on-resistance while increasing mechanical strength says Alpha and Omega Semiconductor...