Features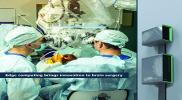 Edge Computing Leverages Modular Power in Scalable Micro Data Centres - May 2022
Edge computing is essential to realizing the full potential of artificial intelligence (AI), machine learning and internet of things (IoT). These technologies are being infused into every corner of...
More details...
Power Electronics Europe News
Nexperia has released a range of 20 and 30V MOSFETs in the DFN0603 package for AI-enabled wearable devices...
Lightweight DC/DC converters provide peak power hybrid diesel-electric trains when catenary power is not available....
The GRF5526 and GRF5536 deliver 0.25W of linear power for 5G without digital pre-distortion, says Guerilla RF....
Murata's first coreless TMR-based current sensors, the MRD series, are designed for industrial systems....
Diodes announces ReDriver, switch, clock generator and clock buffer devices which support the latest PCIe 5 protocol....
Alpha and Omega Semiconductor's AOZ29303QI has integrated passives and is suitable for industrial applications...
The RPX QFN-packaged DC/DC converters are now offered in -Q variants which meet automotive AEC-Q100 Grade 1 requirements....
Claimed to offer the lowest RDSon available today, the EPC7018 is a radiation-hardened GaN FET from EPC....
Digi-Key Electronics has introduced the Innovation Hub, an immersive, interactive simulation of a engineer's workshop...
Vox Power has increased the output voltage options for its VCCS300 fan-less 300W power supply....