Features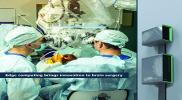 Edge Computing Leverages Modular Power in Scalable Micro Data Centres - May 2022
Edge computing is essential to realizing the full potential of artificial intelligence (AI), machine learning and internet of things (IoT). These technologies are being infused into every corner of...
More details...
Power Electronics Europe News
Alpha and Omega Semiconductor adds EZBuck regulators with 30ns (min) on-time making them suitable for noise-sensitive designs...
At the virtual exhibition's Digital Days (7 to 8 July), Efficient Power Conversion (EPC) will highlight its eGaN FETs and ICs...
To streamline the design of converters based on IGBT modules, the company has released a tool to calculate heat loss....
Integrated Voltage Regulators (IVRs) featuring three outputs with no discrete components and can also be integrated directly into a SoC package to further reduce the power area and energy consumed...
Cambridge GaN Devices Ltd. (CGD) leads €10.3M project with 13 European Partners to deliver the most energy-efficient GaN power modules...
EPC Space, a joint venture company, will provide advanced, high-reliability, gallium nitride (GaN) power conversion solutions for critical spaceborne and other high reliability environments...
UK Britishvolt announced the down selection of two promising sites for the UK's first 30 GWh gigafactory...
All of the company's IGBT modules and phase control thyristors can now be equipped with compatible, proprietary drivers....
Bourns has introduced three resistor model series for harsh environments, including AEC-Q200-compliant models....
The RACM60-K series of 60W AC/DC power supplies are low profile and have 90% efficiency across its load range....