Features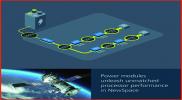 NewSpace demands low voltage, high current power for performance and longevity - Nov 2022
Matt Renola, Senior Director, Global Business Development – Aerospace & Defense
More details...
Power Electronics Europe News
Suitable for densely populated PCBs, the LTM4646 is a dual 10A or single 20A output, step-down μModule from Analog Devices....
Alpha and Omega Semiconductor uses packaging technology for the AONE36132 which it has added to the XSPairFET family....
Thyristors offer superior clamping compared with traditional MOV passive technology in AC line protection, claims Littelfuse....
17 companies and research institutions begin R&D on processes for large-scale series production of lithium-ion battery cells ...
Maxim Integrated introduces the MAX17843, saying it is the industry's only single-chip device to achieve ASIL D compliance....
A hybrid step down DC/DC controller merges a switched capacitor circuit and a synchronous step-down controller....
X-Fab has released what it claims is the industry's lowest power non-volatile memory (NVM), based on its 18nm technology....
Powercast unveils an FCC-approved consumer transmitter for power-over-distance wireless charging at CES 2018. ...
Allegro MicroSystems announces a three-phase MOSFET driver IC for a range of industrial applications. ...
Believed to be the industry's first dual-node battery charge ICs, the BD99954GW/MUV supports up to four battery cells. ...