Features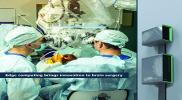 Edge Computing Leverages Modular Power in Scalable Micro Data Centres - May 2022
Edge computing is essential to realizing the full potential of artificial intelligence (AI), machine learning and internet of things (IoT). These technologies are being infused into every corner of...
More details...
Power Electronics Europe News
The performance of the S8016xA SCR switching thyristors makes them robust for on- and off-board applications, says Littelfuse...
TMBS rectifiers from Vishay Intertechnology now include 10 1.0 and 2.0A devices in an eSMP MicroSMP package....
Designed for small wearable devices, the MAX77650 and MAX77651 PMICs have been released by Maxim Integrated Products....
In 'Power SiC 2017: Materials, Devices, Modules, And Applications', Yole Développement predicts a positive future for SiC....
The A4926 and A4927 are designed for automotive use with high-power inductive loads, says Allegro Microsystems Europe....
Four LED drivers with 9.0, 12, 18 and 25W outputs by Recom are designed for either retrofit or new installations....
Alpha and Omega Semiconductor has released the first member of its HV MOSFET family, based on the αMOS5 platform....
Particularly useful for appliances operating in standby mode, the APX803L is a micro-power voltage detector from Diodes....
Expanding its IGBT range, the EconoPIM 3 increases the current rating of the module portfolio from 100 to 150A. ...
Four series of non-isolated DC switching regulators have been added to the CUI Power Group portfolio....