Features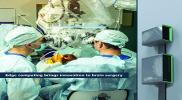 Edge Computing Leverages Modular Power in Scalable Micro Data Centres - May 2022
Edge computing is essential to realizing the full potential of artificial intelligence (AI), machine learning and internet of things (IoT). These technologies are being infused into every corner of...
More details...
Power Electronics Europe News
Two Power Metal Strip shunt resistors, the WSBS8518…34 and WSBS8518…35 increase accuracy, says Vishay Intertechnology...
The EPC2214 80V eGaN FET is optimised for high resolution lidar system in vehicles for autonomous driving applications...
Equipment and circuit protection from Mersen now addresses markets where power levels exceed 100kWc....
Offering high-bandwidth and electrostatic shielding, the CWTHF current probe will be launched at PCIM Europe....
Alpha and Omega Semiconductor announces the first in its family of aGaN technology devices, the AONV070V65G1...
Dengrove Electronic Components now offers three compact medically- approved DC/DC modules from Recom....
The MAX22513 surge-protected, dual-driver IO-Link transceiver from Maxim Integrated has an integrated DC/DC buck regulator...
Renesas Electronics announces USB-IF-certified reference designs for multi-port USB-C hubs and multi-battery cell power banks...
A fourth eGaN FET has been added to the portfolio of 100V GaN transistors available from Efficient Power Conversion (EPC)...
Recom announces that its 3.5, 5.0 and 6.0W medical grade DC/DC converters are available in low power surface mount versions...