Features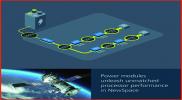 NewSpace demands low voltage, high current power for performance and longevity - Nov 2022
Matt Renola, Senior Director, Global Business Development – Aerospace & Defense
More details...
Feature Spotlight
Range Extension Promise of SiC in Traction Inverters - May 2022
May 3, 2022

There are two major disruptions currently affecting the future of vehicular transport and semiconductor technology. We are embracing a new and exciting means to propel our vehicles cleanly with electrical power, while simultaneously re-engineering the semiconductor materials that underpin electric vehicle (EV)
subsystems to maximize power efficiency and, in turn, EV driving range.

Download PDF