Features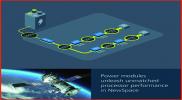 NewSpace demands low voltage, high current power for performance and longevity - Nov 2022
Matt Renola, Senior Director, Global Business Development – Aerospace & Defense
More details...
Feature Spotlight
Optimizing the Switching Stage in Wind Power Applications - May 2022
May 1, 2022

Efficient power conversion is an important part of maximizing the cost-effectiveness of the switching stage in a wind-powered generator. Much effort has been expended in maximizing switching efficiency with excellent results. In this article, we will look at optimizing the utilization of the switches to increase the
amount of power that can be processed by a given system.

Download PDF