Features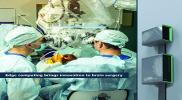 Edge Computing Leverages Modular Power in Scalable Micro Data Centres - May 2022
Edge computing is essential to realizing the full potential of artificial intelligence (AI), machine learning and internet of things (IoT). These technologies are being infused into every corner of...
More details...
Power Electronics Europe News
Infineon closes acquisition of International Rectifier on January 13
Infineon Technologies AG closed the acquisition of International Rectifier on Junuary 13, 2015. The El Segundo based company now has become part of Infineon following the approval of all necessary regulatory authorities and International Rectifier's shareholders. "The acquisition of International Rectifier is an important step for Infineon to foster our position as a global market leader in power semiconductors. We are sure that International Rectifier and its employees will make a great contribution to a joint successful future. Together both companies make a powerful combination", commented Dr. Reinhard Ploss, CEO of Infineon. The combined company is led by Reinhard Ploss, CEO, Arunjai Mittal, Member of the Management Board Regions, Sales, Marketing, Strategy Development and M&A, and Dominik Asam, CFO. President of International Rectifier and of Infineon North America is Robert LeFort. International Rectifier is highly complementary to Infineon: the combined company gains greater scope in product portfolio and regions, especially with small and medium enterprise customers in the US and Asia. The merger taps additional system know-how in power management. It expands the expertise in power semiconductors, also combining leading knowledge in compound semiconductors, namely Gallium Nitride. Furthermore, the acquisition will drive greater economies of scale in production, strengthening the competitiveness of the combined company.