Features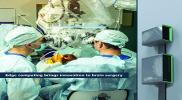 Edge Computing Leverages Modular Power in Scalable Micro Data Centres - May 2022
Edge computing is essential to realizing the full potential of artificial intelligence (AI), machine learning and internet of things (IoT). These technologies are being infused into every corner of...
More details...
Power Electronics Europe News
Three-phase brushless driver includes a power module
Microchip has announced a three-phase BLDC motor gate driver with power module. The MCP8024 includes functions that power dsPIC DSCs (digital signal controllers) and PIC microcontrollers with capabilities to drive six N-channel MOSFETs.
It operates across 6 to 28V and can withstand transient voltage up to 48V. The device provides high-integration analogue, such as three current-sensing operational amplifiers; an over-current comparator; MOSFET drivers and bi-directional communication interface.
The configurable driver dead-time management; driver blanking-time control; and over-current limit for external MOSFETs are claimed to offer a significant increase in flexibility. The adjustable step-down DC/DC converter powers a range of microcontrollers.
The wide operating temperature - from -40 to 150°C - allows for usage in harsh environments such as automotive under-hood applications.
The MCP8024 TQFP BLDC motor drive evaluation board (ADM00557) is also available.
View PDF