Features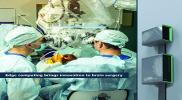 Edge Computing Leverages Modular Power in Scalable Micro Data Centres - May 2022
Edge computing is essential to realizing the full potential of artificial intelligence (AI), machine learning and internet of things (IoT). These technologies are being infused into every corner of...
More details...
Power Electronics Europe News
Three-phase inverter has integrated PFC
PFC and inverter stage are integrated into the IRAM630-1562F intelligent power module (IPM) from International Rectifier. The IRAM630-1562F module shrinks and simplifies design of energy-efficient appliance and light industrial motordrive applications including air conditioners and washing machines, says the company.
It combines Trench IGBTs with a three-phase, high-voltage gate drive IC and PFC input stage, integrating more than 30 components into a single, compact, isolated package. Built-in over-temperature/over-current protection, under-voltage lockout function and temperature monitor protect for fail-safe operation. Other integrated features are bootstrap diodes for the high-side drive function and single polarity power supply to simplify the system design. The open emitter configuration enables multi-shunt current feedback for a vector control loop in V/Hz control loop. Over-temperature is detected internally and triggers a fault condition.
View PDF