Features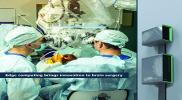 Edge Computing Leverages Modular Power in Scalable Micro Data Centres - May 2022
Edge computing is essential to realizing the full potential of artificial intelligence (AI), machine learning and internet of things (IoT). These technologies are being infused into every corner of...
More details...
Power Electronics Europe News
Linear Hall current sensor shows versatility
Instead of shunt resistors, current transformers or magnetic field sensors, Hall-effect sensors are frequently the choice when measuring DC currents, however, says Melexis, the MLX91209CA can be applied in all current sensing situations.
The high speed, linear Hall IC has a programmable sensitivity range from 5 to 150mV/mT, for measuring DC and AC currents up to 200kHz.
Calibration is done via PTC (Programming Through Connector) protocol. This modulates the supply voltage and does not require any additional pin for programming, for efficient production flows, says the company. A linear analogue output permits the use of the sensor in applications where a very fast response of 3µs is required. Custom calibration is best performed in-situ after the sensor is fixed with respect to the current conductor and ferromagnetic core so that a calibrated current sensitivity is achieved. Typical accuracy of a system based on the IC is better than ±0.5% at room temperature or ±2% over -40 to 125°C, when applying in-circuit end of line calibration.
View PDF