Features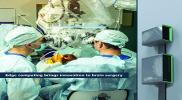 Edge Computing Leverages Modular Power in Scalable Micro Data Centres - May 2022
Edge computing is essential to realizing the full potential of artificial intelligence (AI), machine learning and internet of things (IoT). These technologies are being infused into every corner of...
More details...
Power Electronics Europe News
TSCR4 linear CMOS LED driver ICs are drop-in replacement for bipolar drivers
The linear constant current drivers are direct socket replacements for bipolar components. They provide stable LED current over a range of conditions, such as source voltage variations, changes in load or temperature variations. They offer a higher current set point accuracy and stability, lower quiescent current, tighter output compliance voltage and improved temperature co-efficient compared to legacy bipolar LED drivers, says the company.
Upgrades using the ICs do not require a redesign and the higher accuracy of output current improves manufacturing yields in mass production. The quiescent current is lower than competing bipolar devices (300mA compared with 1.0A at 24V DC) which lowers power dissipation and reduces battery standby and operating power consumption.
The precise output voltage drop feature enables CMOS control of voltage drop for operation closer to the rail. The higher stability of output current delivers consistent brightness control and extends LED life.
An improved temperature co-efficient (-0.07% / °C) controls the output current with temperature increases to eliminate risk of thermal runaway.
The company also offers AEC-Q100 qualified versions for basic automotive lighting applications. Pulse width modulation dimming is possible, for example the TSCR421CX6/H IC has up to 10kHz digital input for zero to 100% dimming.
To support large LED arrays, the ICs supply up to 40V. Applications include automobile, lorry and bus interior and exterior lighting, architectural lighting, signage, advertising and decorative lighting, lighting in refrigerators, freezer cases, kiosks and vending machines, emergency lighting systems.
Samples are in-stock now and available from distributors Digi-Key and Mouser.
View PDF