Features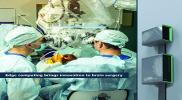 Edge Computing Leverages Modular Power in Scalable Micro Data Centres - May 2022
Edge computing is essential to realizing the full potential of artificial intelligence (AI), machine learning and internet of things (IoT). These technologies are being infused into every corner of...
More details...
Power Electronics Europe News
DC/DC buck-booster converter maximises battery use for IoT
The converter has a quiescent current (IQ) of just 75nA and 92% efficiency at 10µA. says the company. These characteristics make it suitable for use in building automation and grid infrastructure applications, where its programmable input current limit and integrated dynamic voltage scaling can extend battery life by at least 50%, according to the company.
The low IQ is combined with sufficient output current to send signals between connected smart grid applications and a network via commonly used radio-frequency standards, for example narrowband IoT, Bluetooth Low Energy and long-range and wireless M-Bus to conserve energy in IoT and other wirelessly connected applications which run on battery-driven devices.
Dynamic voltage scaling delivers power while keeping the system at the minimum voltage for efficient operation to extend battery life and reduce maintenance.
Examples of use are power architectures which can be optimised for low power sensors and wireless connectivity ICs in applications such as monitoring vibration in water pumps, which can operate for at least 10 years using a primary battery.
Believed to be the first low IQ buck-boost converter to integrate a programmable input current limit, the TPS63900 can be used to efficiently charge supercapacitors to buffer peak loads, protect battery capacity, as well as extend system lifetime and performance.
Reducing by up to 50% the output-voltage ripple caused by load transients, improves reliability while the fast transient response maintains low IQ and keeps the internal regulation loop active. This feature is particularly useful in applications which need to consume a large amount of power in a short amount of time when sharing data, for example, smart water and gas meters.
The TPS63900 is now available through TI and authorised distributors in a 2.5 x 2.5mm wafer small outline no-lead (WSON) package.
A TPS63900EVM evaluation module (pictured) is also available.
View PDF