Features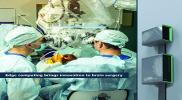 Edge Computing Leverages Modular Power in Scalable Micro Data Centres - May 2022
Edge computing is essential to realizing the full potential of artificial intelligence (AI), machine learning and internet of things (IoT). These technologies are being infused into every corner of...
More details...
Power Electronics Europe News
High isolation DC/DC converters suit medical and industrial use
They have a reinforce isolation of 3kV AC, 4.2kV DC and comply with provide 2MOOP (means of operator protection) at 250V AC, as specified in the IEC60601-1 3rd edition standard.
They are rugged for industrial applications that might involve differential I/O voltages, using high-power high-isolation design techniques to reduce isolation fatigue that may result from differential high voltages.
There are three input voltage ranges. The first is 4.5 to 18V – covering 12V batteries, there is also 9.0 to 36V – combining 12 and 24V battery systems, and a third range of 18 to 76V – addressing 24 and 48V systems. Maximum insulation capacitance is 20pF to reduce noise transfer.
There are five single output models, the MHFS3 (3.3, 5.0, 9.0, 12, 15V) and two dual outputs /-12V and /-15V models (MHFW3). Output can be used in series, delivering 24V or 30V. The MHFS3 can be adjusted by using the Vout trim pin on the secondary side.
Safety features include built-in overcurrent protection circuit, with automatic recovery. A remote control pin operating as negative logic is available as standard.
Operating temperature is -40 to 85°C ambient, 20 to 95% RH (non condensing). Depending on cooling, a power derating may apply to not exceed 105°C at a specified measuring point.
To address vibration which may damage pins on the packaging, the pins are moulded in an epoxy holder, strengthening the connections between the application PCB and the module. The modules have been qualified on vibrations testing: 10 to 55Hz 98.0m/s2 (10G), for a three-minute period, 60 minutes each along the X, Y and Z axis and shock: 490.3m/s2 (50G) 11ms, once each along the X, Y and Z axis.
The modules carry UL62368-1, EN62368-1, c-UL (equivalent to CAN/CSA-C22.2 No.62368-1), ANSI/AAMI ES60601-1, EN60601-1 3rd, c-UL (equivalent to CAN/CSA-C22.2 No.60601-1) approvals. The power supply complies with the RoHS directive and is CE marked in accordance with the Low Voltage Directive. It is manufactured in Japan and carries a five year warranty.
The SIP8 packaging measures 22.0 x 12.0 x 9.5mm (0.87 x 0.48 x 0.38 inches).
View PDF