Features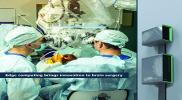 Edge Computing Leverages Modular Power in Scalable Micro Data Centres - May 2022
Edge computing is essential to realizing the full potential of artificial intelligence (AI), machine learning and internet of things (IoT). These technologies are being infused into every corner of...
More details...
Power Electronics Europe News
100V eGaN FETs target synchronous rectification
Efficient Power Conversion (EPC)
says that the FETs increase the benchmark performance compared with silicon MOSFETs further than earlier generations of eGaN on silicon power FETs.
The two 100V eGaN FETs are designed for synchronous rectification, Class D audio, infotainment systems, DC/DC converters (hard-switched and resonant) and lidar systems for autonomous cars, robotics and drones.
The EPC2218 is an 3.2mΩ, 231A pulsed eGaN FET and the EPC2204 is a 6mΩ, 125A pulsed eGaN FET. They both have nearly 20% lower RDS(on) and increased DC ratings compared with earlier generation eGaN FET products. According to EPC, the performance advantage over a benchmark silicon device is even higher than previous eGaN FETs.
The EPC2204 has 25% lower RDS(on) than the benchmark silicon MOSFET, but it is three times smaller, says the company. In addition, gate charge (QG) is less than half that of the silicon MOSFET benchmark. (The benchmark silicon MOSFET measures 3.3 x 3.3mm compared with 1.5 x 2.5mm.)
As is the case with all eGaN FETs, there is no reverse recovery charge (QRR), adds the company. This feature enables lower distortion class-D audio amplifiers, as well as more efficient synchronous rectifiers and motor drives.
The 100V eGaN FETs are cost-competitive, at a price comparable with a silicon power MOSFET, says EPC. EPC co-founder and CEO, Alex Lidow, said: "EPC has priced these state-of-the-art 100 V transistors comparable with their aging ancestor, the silicon power MOSFET. Designers can take advantage of devices that are higher performance, smaller, more thermally efficient, and at a comparable cost. The displacement of the power MOSFET with GaN devices continues to accelerate".
The EPC2218 and EPC2204 are available now from distributor, Digi-Key Electronics. There are also half bridge development boards for each, the EPC90123, for the EPC2218 and the EPC9097 half bridge development board for the EPC2204.