Features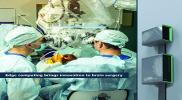 Edge Computing Leverages Modular Power in Scalable Micro Data Centres - May 2022
Edge computing is essential to realizing the full potential of artificial intelligence (AI), machine learning and internet of things (IoT). These technologies are being infused into every corner of...
More details...
Power Electronics Europe News
Miniature DC/DC converters comply to standards for industrial applications
The PUA-A, PUC-B and PUB-M are isolating converters providing output power of up to 1W, with no minimum load required.
Efficiency is typically 84% (PUA-A), 80% (PUC-B) and 81% (PUB-M) all at full load. Input-to-output isolation voltage is 2,000V (PUA-A), 6,000V (PUC-B) and 3,000V (PUB-M).
The converters comply with safety standard EN/UL 62368-1 and the company is an ISO 9001/14001-certified supplier.
They are rugged for harsh industrial environments and have a mean time between failures (MTBF) rated at 17.9m hours (Mh) for the PUB-M, 15Mh for the PUC-B and 13.1Mh for the PUA-A.
Operating range is -40 to 100°C (PUA-A and PUC-B) and -40 to 110°C (PUB-M). Short-circuit protection is also included.
The PUA-A is supplied in an industry standard SIP4 device, measuring 11.5 x 6 x 10mm (0.45 x 0.23 x 0.36 inches), the PUC-B is in a SIP7 package (19.7 x 7.1 x 11.5mm / 0.78 x 0.28 x 0.45 inches), and the PUB-M is in a surface-mount device (12.75 x 11.2 x 6.6mm / 0.5 x 0.441 x 0.26 inches) for the single-output variant, and 15.25 x 11.2 x 6.6mm (0.6 x 0.441 x 0.26 inches) for the dual-output version.
View PDF