Features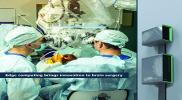 Edge Computing Leverages Modular Power in Scalable Micro Data Centres - May 2022
Edge computing is essential to realizing the full potential of artificial intelligence (AI), machine learning and internet of things (IoT). These technologies are being infused into every corner of...
More details...
Power Electronics Europe News
Recom and SnapEDA collaborate on design tools
The digital models of symbols and footprints for Recom's portfolio are available for free download via the manufacturer's own website and via the electronic component discovery and design-in company's website.
The collaboration provides access to over 20,000 new symbols and footprints for the digital models needed for circuit board design. The companies claim that this saves engineers weeks of development time when compared with making them from scratch.

Digital models are needed for each component on circuit boards. Designing them can be time-consuming, repetitive, and error-prone process but now engineers can drag-and-drop models into schematics and PCB layouts to begin the design process.
Products include compact AC/DC power supplies, DC/DC converters, LED drivers and switching regulators, including the RAC05-K/480-5W, the AC/DC converter, capable of 480V AC in a 1.0 x 2.0-inch (25 x 50mm) package, the RPM, a DC/DC SMD switching regulator, with a DOSA footprint and 99% efficiency rating, the RBB DC/DC buck/boost compact switching regulator, with a 95% efficiency rating and 7µA standby power consumption and the REM1/REM2, Recom's 1.0 to 2W medical-grade DC/DC converters in SIP7 and SIP8 packages.
The symbols and footprints have been made using recommended land patterns provided by Recom or IPC standards, where applicable. They are compatible with Altium, Autodesk Eagle, Cadence OrCAD and Allegro, KiCad, Mentor PADS and DXDesigner, and Proteus. According to SnapEDA, models made by its platform have 99.9% accuracy and are verified with patent-pending verification technology.
View PDF