Features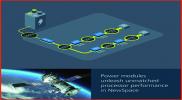 NewSpace demands low voltage, high current power for performance and longevity - Nov 2022
Matt Renola, Senior Director, Global Business Development – Aerospace & Defense
More details...
Power Electronics Europe News
SIMO PMIC reduces size, extends battery life for wearable devices
Compact consumer devices can be halved in size, with extended battery life, using the MAX77654 single inductor, multiple output (SIMO) power management IC (PMIC). The PMIC offers three outputs with just one inductor at 91%, which is 16% greater than traditional four-chip systems, confirms the company. The reduced size allows more functionality in wearable devices, hearables and other compact consumer devices.
Such devices also require long battery life or small battery volume. The PMIC replaces three buck-boost converters, three inductors with a single converter and a single inductor. It also replaces two LDOs/load-switches, a battery charger and additional passives, for a 50% smaller product. It offers 20% longer battery life by delivering 91% efficiency. With less than 500nA shutdown current and a low supply current of 6µA with five regulators, designers can add more functions. The PMIC yields lower heat dissipation and reduces system board temperature by more than 20°C when compared against an alternative single inductor system power solution. The company adds that the SIMO PMIC provides output voltage ripple performance of less than 20mVp-p for noise sensitive rails.

The MAX77654 is available now and there is also an evaluation kit, the MAX77654EVKIT#.
View PDF