Features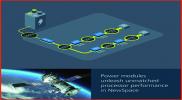 NewSpace demands low voltage, high current power for performance and longevity - Nov 2022
Matt Renola, Senior Director, Global Business Development – Aerospace & Defense
More details...
Power Electronics Europe News
Surface mount, non-isolated DC/DC converter saves board space
The thin converter has an output current of 500mA and a no-load current down to 0.2mA. Operating temperature range is -40 to 85°C.
The regulated DC/DC converter offers a wide 4.75 to 36V DC input voltage range, short-circuit protection and 4-SMD reflow solderability in a compact SMT package with half-vias corners.
It offers up to 95% efficiency and is suitable for applications which need to maximise energy where board space is limited, for example in commercial IT equipment, controls and electronic equipment, as an alternative to a linear regulator.
The DC/DC converter is certified to UL/EN/IEC 62368 and is available now.
View PDF