Features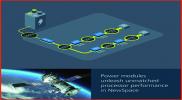 NewSpace demands low voltage, high current power for performance and longevity - Nov 2022
Matt Renola, Senior Director, Global Business Development – Aerospace & Defense
More details...
Power Electronics Europe News
Isolated, regulated DC/DC converter suits airborne design
The isolated, regulated 270V to 28V DC/DC converter is suitable for advanced airborne, shipboard and unmanned aerial vehicle (UAV) systems where power density, weight and efficiency are critical, says the company.
It is supplied in a VIA package, measuring 142.2 x 35.6 x 9.4mm ( 5.6 x 1.4 x 0.3 inches). Output rating is 1,300W.
Efficiency is 96% and the planar, thermal VIA package reduces power dissipation is significantly and enables multiple cooling strategies. The modules can also be paralleled for increased power, or stacked for increased output voltage.
The DC/DC converter operates from a 180 to 400V DC primary source to deliver an isolated, regulated, 28V nominal, safety extra low voltage (SELV) secondary output.
The low-profile modules is available in chassis- or PCB-mount form factor. It incorporates a DC/DC converter, in-rush protection and optional analogue or digital communication.
The module offers low noise, fast transient response and high efficiency and power density. The optional secondary referenced PMBus-compatible telemetry and control interface provides access to the internal controller configuration, fault monitoring and other telemetry functions. The VIA packaging offers flexible mechanical mounting options with low top- and bottom-side thermal resistances.
When combined with downstream regulators and PoL current multipliers, the module enables power system architects to achieve power systems for defence, aerospace and communication systems.
View PDF