Features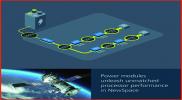 NewSpace demands low voltage, high current power for performance and longevity - Nov 2022
Matt Renola, Senior Director, Global Business Development – Aerospace & Defense
More details...
Power Electronics Europe News
DIN rail power supplies accept wide DC input range, says TDK-Lambda
Using the company's i6A non-isolated step-down power modules, the DC/DC power supplies provide up to 250W per output to provide cost-effective, low voltage outputs from standard 24V AC/DC DIN rail power supplies typically used in industrial and test and measurement systems.

There are three standard models available. There is a single output model, rated at 12V at 20A (adjustable from 3.3 to 15V) and two dual output versions, one rated at 12V 20A / 5V 20A (both adjustable from 3.3 to 15V) and one rated 12V 14A / -12V 8A (both adjustable from 3.3 to 24V). The available output power is typically 250W for the positive outputs and 75W for the negative output. The overall power rating with convection cooling is 250W or up to 500W with forced air cooling.

The power supplies also include remote sense, remote on/off and an open-collector power good signal for each output. The DDA series is up to 95% efficient, which reduces internal heat for increased reliability. All models are 123.4mm high and 115 x 36.5mm.
Safety certificates are IEC/EN/UL 62368-1 and the supplies are CE marked for the Low Voltage, EMC and RoHS Directives. The units also comply with EN 55032-A conducted and radiated emissions and meet the EN 61000-4 conducted, radiated and magnetic field immunity standards.
View PDF