Features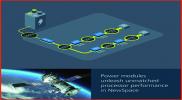 NewSpace demands low voltage, high current power for performance and longevity - Nov 2022
Matt Renola, Senior Director, Global Business Development – Aerospace & Defense
More details...
Power Electronics Europe News
Infineon introduces super junction MOSFET for e-mobility
The MOSFETs can be used in both the power factor correction (PFC) and the DC/DC stage of on-board charger systems and HV-LV DC/DC converters.
They are compatible with system voltages up to 475V DC. Higher efficiency levels are made possible by the Kelvin-source concept reaching peak efficiency levels up to 98.4% measured. They have intrinsic fast body diode and are available in TO and SMD packages. They are designed to reach higher switching frequencies with low gate losses to enable more power-dense and compact designs. The CoolMOS technology was developed to meet the needs of the harsh automotive environment, especially in terms of cosmic radiation and design robustness, says the company.
The 650V CoolMOS CFD7A technology, combined with the D²PAK 7-pin package is claimed to enhance efficiency, thermal behaviour and extends creepage distances.
The MOSFETs is manufactured on the automated 300mm production line, which contributes to reach the zero-defect target in mass production, reports Infineon.
The 650V devices are available now in TO-220, TO-247, TO-247 short leads, D²PAK 3-pin and D²PAK 7-pin packages.
View PDF