Features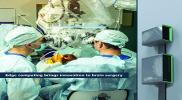 Edge Computing Leverages Modular Power in Scalable Micro Data Centres - May 2022
Edge computing is essential to realizing the full potential of artificial intelligence (AI), machine learning and internet of things (IoT). These technologies are being infused into every corner of...
More details...
Power Electronics Europe News
Cosel shows confidence with 10 year warranty for 80W DC/DC converter
I
t has a warranty period of 10 years and to guarantee lifetime quality, does not include aluminum or tantalum capacitors, says the company.
There are two input options, 9.0 to 36V and 18 to 76V. The single output version (MGFS80) is available as 3.3, 5.0, 12, and 15V ouput and can be adjusted within a range of ±10% using a resistor bridge or potentiometer. The dual output version, the MGFW80, is available in two, factory trimmed output voltages, ±12 and ±15V, offering the possibility to provide respectively, 24 and 30V between the two ends.
Using synchronous rectification and soft-switching technology, the converters have 94% typical efficiency. All models deliver an available power level of up to 81.6W, but to maintain high performance the output power of the 3.3V MGFS80243R3 is limited to 59.4W.
The converters operate in a wide temperature range of -40 to 85 degrees C with a maximum case temperature of 110 degrees C. There is over-current and over-voltage and thermal protection, which switches the unit off when the maximum allowable safe temperature is reached.
The rugged series has been tested to sustain rough conditions and has passed three axis vibration testing equivalent to 10G and shock testing of 50G.
The six-sided, brass, nickel-plated housing measures 50.8 x 25.4 x 9.9mm (2.0 x 1.0 x 0.39-inch) and uses lead-free plated copper pins. It weighs 50g.
I/O isolation is 1500V DC, and input and output to case isolation is 1000V DC. The converters are UL62368-1, C-UL [CSA62368-1) and EN62368-1 -approved and CE mark 2014/35/EU. The MGFS80 and MGFW80 are RoHS-compliant.
The series is designed for industrial, IoT, mobile equipment in demanding applications.
View PDF