Features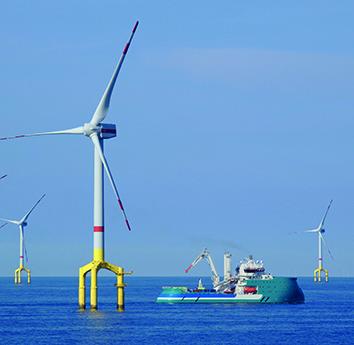 Technologies to harness wind power for net zero - September 2023
The offshore wind industry has a major role to play in reducing carbon emissions, but the industry faces a number of challenges. ABB Energy Industries discusses some technology developments which are...
More details...
AC/DC power factor correction module offers up to 1,512W
A full brick package developed by TDK-Lambda, the PF1500B-360, is for high voltage distributed power architectures
More details...
Power Electronics Europe News
AC/DC power supplies target harsh environments
The GXE600/HD medical and industrial programmable power supplies meet MIL-STD-810G shock and vibration standards and is safety certified to IEC 60601-1 medical and IEC 62368-1 industrial standards. The convection cooled, 1U high products can be programmed digitally using an RS-485 interface (Modbus RTU protocol) or with a 0 to 6.0V external voltage. The supplies are intended for use in harsh environment medical and industrial equipment requiring quiet operation, fan-less cooling with constant voltage and constant current programmability.
The series is available with a 24 or 48V nominal output supply and can be programmed to provide a constant voltage, constant current (CVCC) source. The voltage adjustment range is from 20 to 120% and the current from 20 to 100%. Protection and recovery parameters, and the rise time slew rate can be set. A digital communications interface can indicate the estimated remaining electrolytic capacitor lifetime, operating run-time and alarm history for remote preventative maintenance indication or fault finding.
To provide resistance to dust and dirt ingress, the PCBs are selectively coated to prevent a build-up of contaminants. There is also an optional cover to reduce the likelihood of accidental contact with the internal circuitry.
The power supplies operate from 85 to 265V AC with an earth leakage current of up to 300µA and dual fuses as standard. Ambient operating temperature is ‑20 to 70°C (‑40°C start up), derating linearly above 50°C to 50% load at 70°C. Derating or external cooling is required below 170V AC input. The supplies also have an isolated 5V 1A standby voltage, remote on/off, DC-good and AC-fail isolated signals, with paralleling capability for up to five units.
Input to output isolation is 4,000V AC (2 x MoPP), input to ground 2,000V AC (1 x MoPP) and 1,500V AC output to ground (1 x MoPP) for suitability with B and BF rated medical equipment. The units also comply with EN 55011-B, EN 55032-B, FCC Class B, VCCI-B conducted and radiated emissions, meet the EN 61000-3-2 harmonics and EN 60601-1-2 (Edition 4) immunity standards.
Dimensions are a compact 127 x 41 x 254mm (127.5 x 50 x 254mm for the /HDA model with a cover). The supplies have a seven year warranty period.
View PDF