Features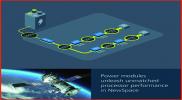 NewSpace demands low voltage, high current power for performance and longevity - Nov 2022
Matt Renola, Senior Director, Global Business Development – Aerospace & Defense
More details...
Power Electronics Europe News
Infineon adds two modules for drives and UPS applications
The 50mm modules feature solder bond technology and the 60mm modules use pressure contact technology. Both are designed for when the desired current exceeds 600A (60mm model) or 330A (50mm model) so that paralleling of modules can be avoided, says the company.
The modules have been optimised for thermal resistance and operational temperatures and are claimed to achieve the highest power density in the respective footprint while maintaining reliability. The pressure contact modules in general provide best-in-class blocking stability, claims the company and the solder bond modules can undergo x-ray monitoring after the soldering process.
The module in the 60mm standard housing is available in thyristor/thyristor and thyristor/diode topologies with a blocking voltage of either 1600 or 2200V and in current ratings from 700 to 820A.
The 50mm standard housing module is offered in thyristor/thyristor, thyristor/diode and diode/diode topologies. Its blocking voltage stands at 1600, 1800 and 2200V. The modules supports current ratings of up to 390 A.
Both Prime Block modules are available now.
The company has already announced that the next addition will support customers with pre-applied thermal interface material (TIM) to keep production lines fast and clean as well as improve thermal behaviour.
View PDF