Features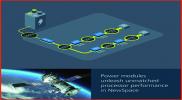 NewSpace demands low voltage, high current power for performance and longevity - Nov 2022
Matt Renola, Senior Director, Global Business Development – Aerospace & Defense
More details...
Power Electronics Europe News
Synchronous buck regulators save space with 98% efficiencies
They have wide input voltage ranges from 4.5 to 55V (SiC476/SiC477/SiC478/SiC479) and 4.5 to 60V (SiC466/SiC467/SiC468/SiC469). The 5.0 x 5.0mm PowerPack package combines n-channel trench MOSFETs with a controller for high efficiency and power density, says the company, while internal compensation reduces the external component count.
The regulators offer a low 156µA operating current and peak efficiency up to 98% to increase power density by reducing power losses. The package boasts "superior thermal design" and eliminates the need for a heatsink, which enables cooler operation for long term reliability. The wide safe operating area allows designers flexibility to support a wide range of operating temperature and current requirements to shrink the PCB size, simplify thermal management and reduce system costs, says the company.
Output voltage is adjustable from 24 to 0.8V for use in applications as varied as DC/DC converters for industrial and factory automation, home automation, industrial computing, basestation power supplies, 5G network equipment and small cells, wall transformer regulation, robotics, drones, battery management systems, power tools, and vending, ATMs and slot machines.
The SiC46x family is made up of the 2A SiC469, 4A SiC468, 6A SiC467 and 10A SiC466. The SiC47x family is made up of the 3A SiC479, 5A SiC478, 8A SiC477 and 12A SiC476. All are footprint-compatible and configurable. Switching frequencies can be adjusted from 100kHz to 2MHz, and the regulators also have adjustable soft start and current limits a choice between forced continuous conduction or power save operating modes. The internal compensation in both families eliminates the need for external RC networks, adds the company.
The microBuck COT architecture delivers fast transient response with minimum output capacitance and tight ripple regulation at light loads. It also enables loop stability regardless of the type of output capacitor used, including low ESR ceramic capacitors. Protection includes output over-voltage protection (OVP), output under-voltage protection (UVP), over-current circuit protection (OCP), short circuit protection (SCP) with auto retry, over-temperature protection (OTP) and a power- good flag.
Samples and production quantities are available now, with lead times of 12 weeks.
View PDF