Features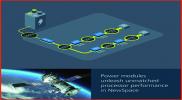 NewSpace demands low voltage, high current power for performance and longevity - Nov 2022
Matt Renola, Senior Director, Global Business Development – Aerospace & Defense
More details...
Power Electronics Europe News
Cosel adds UL/EN62368-1 certified open frame power supplies
The profile of the LHA30F, LHA50F, LHA75F and LHA100F is just 27mm. The new models join the company's LHA150F and LHA300F models and have a typical efficiency up to 90% high-line and 86% low-line. It also uses partial resonance technology to reduce noise and ripple levels. They are designed for use in a wide range of applications, with a temperature range from -10 to 70°C.
The complete family is UL/EN 62368-1 certified for industrial applications. The LHA30F, LHA50F, LHA75F and LHA100F have an input voltage range of 85 to 264V AC single phase, and conform to the safety standards input voltage range of 100-240V AC (50/60Hz).
The 30W LHA30F is available in five output voltages, 3.3, 5.0, 12, 15 and 24V. The LHA50-75F is available in seven output voltages, 3.3, 5.0, 12, 15, 24, 36 and 48V and the LHA100F comes in six output voltages, 5.0, 12, 15, 24, 36 and 48V. Standard products are delivered with a factory trimmed output voltage but it is possible to order the LHA30/50/75/100F with a built-in potentiometer to adjust the voltage up and down.
To reduce energy consumption when a unit is operating at light loads or is in standby, the four power supplies automatically switch to an energy saving mode using intermittent pulse modulation. They also include inrush current protection, over-current protection with automatic recovery when the default is removed, and over-voltage protection.
The units can be mounted in any orientation, though depending on the ambient temperature and environment a derating may apply.
In conducted noise tests, they comply with FCC-B, VCCI-B, CISPR11-B, CISPR32-B, EN55011-B, and EN55032-B. For further improved noise performance EMI/EMC filters type EAC-03-472 are available.
The units have a 3,000V AC input to output isolation voltage, 2,000V AC input to ground and 500V AC output to ground.
Additional options are available for improved moisture resistance, a lower leakage current, input and output EP connectors and an output voltage potentiometer.
The power supplies are suitable for a range of applications including measurement and analysis equipment, machine tools and industrial robots, display equipment, and semiconductor manufacturing equipment.
View PDF