Features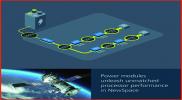 NewSpace demands low voltage, high current power for performance and longevity - Nov 2022
Matt Renola, Senior Director, Global Business Development – Aerospace & Defense
More details...
Power Electronics Europe News
The 3W AC/DC modules meet European ErP Lot 6 ecodesign specifications for standby and off mode.
They have a footprint of 28.5 x 23.5mm and a height of 17.9mm and deliver full-load power from -40 to 60°C and 2W up to 80°C. The compact, ErP Lot 6-compliant modules are therefore suitable for automation, industry 4.0, IoT, household and home-automation applications worldwide.
International safety certifications include UL/IEC/EN62368-1 and IEC/EN60335-1, easing approval of industrial, domestic, and IT equipment. An IECEE CB report is also available, which simplifies conformity assessment in CB Scheme member countries.
The RAC03 modules also simplify equipment design, with reinforced insulation that meets IEC Class-II protection requirements and electromagnetic emissions significantly inside the class-B limits without the addition of an external filter.
There are six single-output models in the RAC3 family, with a universal 85 to 264V AC input with a choice of 3.3, 5.0, 12, 15, 18 or 24V output. All units come with a five-year manufacturer's warranty.
View PDF