Features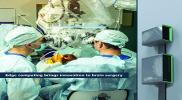 Edge Computing Leverages Modular Power in Scalable Micro Data Centres - May 2022
Edge computing is essential to realizing the full potential of artificial intelligence (AI), machine learning and internet of things (IoT). These technologies are being infused into every corner of...
More details...
Power Electronics Europe News
Vishay enhances can performance for aluminium capacitors
The miniaturised screw terminal aluminium capacitors deliver 10% higher capacitance and 10% better ripple current handling for a given can size than earlier devices, says Vishay Intertechnology. This allows designers to pack more energy storage into less space, says the company.
The polarised aluminium electrolytic capacitors can be used in UPS, X-ray equipment, microgrid interfaces, wind turbines, motor drives, HVAC, welding inverters and scientific test equipment.
The 500V rating provides increased voltage headroom in motor drives, UPS, and solar inverters by allowing three-phase, 380V designs to be re-used in 480V systems, explains the company, by upgrading the DC-Link capacitors. It also enables solar inverter systems to be upgraded for 1,000V maximum input.
They have a cylindrical aluminum case insulated with a blue sleeve and pressure relief in the sealing disc, to offer a rated ripple current to 30.2A. Useful life is 5,000 hours at 85°C. The capacitors are lead (Pb)-free and RoHS-compliant.
Selected samples are available now, with production quantities available with lead times of 18 weeks.
View PDF