Features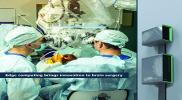 Edge Computing Leverages Modular Power in Scalable Micro Data Centres - May 2022
Edge computing is essential to realizing the full potential of artificial intelligence (AI), machine learning and internet of things (IoT). These technologies are being infused into every corner of...
More details...
Power Electronics Europe News
Recom matches EMI-filter inductors to DC/DC converters
The specialist distributor explains that it can solve power supply designers' EMC-compliance challenges with the latest surface-mount line inductors from the manufacturer.
The inductors are intended for use in filters to meet EN 55011 Class A or Class B EMC standards. They are pre-tested and matched with Recom DC/DC converters to pass conducted noise but also radiated interference limits over the full frequency range.
Use of the inductor provides extra confidence when a product undergoes compliance tests at an independent laboratory, which contributes to fast certification for rapid time to market and lower development costs. The company points out that typically, inductors for power supply filter applications are tested for conducted emissions only and can display differing performance at various test frequencies. This can delay certification and could add extra re-engineering and re-testing costs.
The inductors comply to RoHS and REACH and are available in inductance values from 3.9 to 100µH and rated current from 0.63A to 1.89A.
View PDF