Features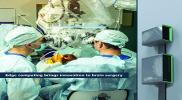 Edge Computing Leverages Modular Power in Scalable Micro Data Centres - May 2022
Edge computing is essential to realizing the full potential of artificial intelligence (AI), machine learning and internet of things (IoT). These technologies are being infused into every corner of...
More details...
Power Electronics Europe News
Fidus Power introduces 600, 800 and 1,000W medical power supplies
The Medical Versatile Power Series can be used to standardise on a single reference power and simplify installation footprints to prevent having to stock different power supply variants with different mechanical installation requirements.
They include the latest approvals for safety IEC 60601-1 (ed 3.1 BF rated and EMC immunity IEC 60601-1-2 (ed 4) for future proofing designs. They also have universal input range, output voltages from 12 to 58V DC for use worldwide. All models also have low inrush current of 25A maximum to allow parallel AC primary connection of up to three units when using the load share function to support demanding applications, delivering up to 27,00W. There is a ±3% output voltage adjust and remote sense to assist with voltage drop on longer cable runs.
The signal I/O includes power good signal, remote on/off, load share, current limit and 5.0V standby for control and monitoring. Mechanical variants include U channel, covered and slotted covered (fully covered only for 1,000W) for different mechanical installation preferences. The 600 and 800W models allow peaks of up to 1,000W for 500mS, for motor driving and cost optimising for dynamic loads.
The 600 and 800W models measure 5.0 x 8.5 x 1.61 inches (127 x 215 x 41mm) and the 1000W unit has dimensions of 5.0 x 9.51 x 1.61 inches (127 x 241.5 x 41mm), both suitable for 1U installations. All models have over-temperature protection, over- voltage protection, over-current protection and short circuit protection. Operating temperature range is -40 to 70°C (with derating).
Free engineering samples can be delivered from stock on short lead-times, and all models are backed by the company's five-year warranty and have 3D step files readily available for quick CAD integration.
View PDF