Features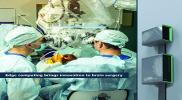 Edge Computing Leverages Modular Power in Scalable Micro Data Centres - May 2022
Edge computing is essential to realizing the full potential of artificial intelligence (AI), machine learning and internet of things (IoT). These technologies are being infused into every corner of...
More details...
Power Electronics Europe News
T
oshiba Electronics Europe says the main applications will be in industrial and automotive designing, including electric pumps for water, oil and fuel and electric fans.
The pre-driver can control BLDC motors using only a simple PWM input, without the need for any high-performance microcontrollers and software.

Two functions that are used for the first time by Toshiba stabilise motor control. An automatic duty generation function adjusts the output PWM duty cycle to suit the battery voltage at start-up and a soft speed changing function prevents stalling by suppressing sudden changes in the output PWM duty cycle.
The pre-driver IC is controlled by a hard-wired logic circuit and therefore does not need software development. VBAT over-voltage detection, VBAT under-voltage detection, over-current protection, and thermal shutdown circuits are included.
The operating temperature range is -40 to 125°C. The IC is packaged in a 7.8 x 7.6mm SSOP24 package.
View PDF