Features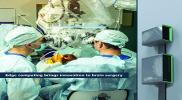 Edge Computing Leverages Modular Power in Scalable Micro Data Centres - May 2022
Edge computing is essential to realizing the full potential of artificial intelligence (AI), machine learning and internet of things (IoT). These technologies are being infused into every corner of...
More details...
Power Electronics Europe News
ISL78714 battery management IC extends EV and HEV driving range
The company reports 15-year board level accuracy (long term drift) of ±6mV at ±6σ.
This fourth-generation Lithium-ion battery management IC provides cell voltage, temperature monitoring, cell balancing and system diagnostics to protect 14-cell Li-ion battery packs. It also maximises driving time and range for electric vehicles (EVs) and hybrid electric vehicles (HEVs).
The IC monitors and balances up to 14 series connected cells with ±2mV accuracy across -40 to 105°C. It includes a precision 14-bit ADC and associated data acquisition circuitry. It also offers up to six external temperature inputs (two available from general purpose I/Os) and includes fault detection and diagnostics for all key internal functions.
The IC meets the stringent reliability and performance requirements of battery pack systems for all EV variants including HEVs/PHEVs (plug-in HEVs) with safety features to achieve the ISO 26262 automotive safety integrity level (ASIL D). It monitors and reads back over/under voltage, temperature, open wire conditions, and fault status for 112 cells in less than 10ms, or 70 cells in 6.5ms.
Connecting multiple ICs, via a proprietary daisy chain that supports systems up to 420 cells (30 ICs), provides transient and EMC/EMI immunity, which exceeds automotive requirements. The daisy chain architecture uses low-cost capacitive or transformer isolation, or a combination of both, with twisted pair wiring to stack multiple battery packs together while protecting against hot plug and high voltage transients. A watchdog timer automatically shuts down a daisy-chained IC if communications is lost with the master microcontroller.
A battery management system (BMS) reference design includes five ISL78714 ICs and a RH850/P1M microcontroller for a 70-cell evaluation platform for external balancing. The reference design kit provides set-up and data logging via CAN and UART, a GUI, Altium layout files and low-level drivers for the RH850 peripherals and ISL78714.
The ISL78714 Li-ion battery management IC is in mass production now, in a 64-lead TQFP package.
View PDF