Features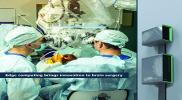 Edge Computing Leverages Modular Power in Scalable Micro Data Centres - May 2022
Edge computing is essential to realizing the full potential of artificial intelligence (AI), machine learning and internet of things (IoT). These technologies are being infused into every corner of...
More details...
Power Electronics Europe News
Super junction MOSFETs meet high-density needs
Optimised for efficiency and rugged operation in both hard and soft switching topologies, the 700 and 600V αMOS5 super junction MOSFET families are based on 300mm technologies.
The high voltage MOSFETs are designed to meet the high efficiency and high-density needs for quick chargers, adapters, PC power, server, industrial power, telecomms and hyperscale data centre applications.
The devices are designed to fit into a variety of hard and soft switching topologies including PFC, flyback, LLC, ZVS FB, and other resonant structures. They have 30% less RDS x A. compared with the previous generation, says the company, to reduce the conduction and switching losses and to drive switch mode power supplies' efficiency.
The 700 and 600V MOSFET families will be manufactured in the company's 300mm fab. Both 700 and 600V families provide a broad selection of RDS(ON) and package options to address different power ratings and design form factors, including the 600V 40mΩ device in a TO-247 package.
The company's Tunable Switching technology allows a range of dV/dt and makes it possible to achieve the best efficiency in fast switching applications, as well as addressing EMI and avalanche/UIS challenges without compromising efficiency, claims the company.
The AOTF190A60CL (600V 190mΩ), AOTF380A60CL (600V 380mΩ) and AOD600A70R (700V 600mΩ) are immediately available for mass production.
View PDF