Features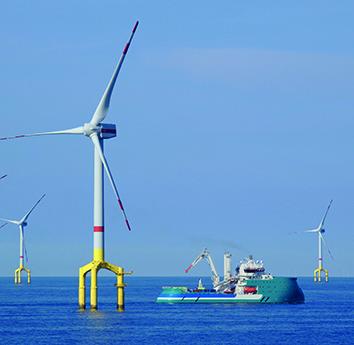 Technologies to harness wind power for net zero - September 2023
The offshore wind industry has a major role to play in reducing carbon emissions, but the industry faces a number of challenges. ABB Energy Industries discusses some technology developments which are...
More details...
AC/DC power factor correction module offers up to 1,512W
A full brick package developed by TDK-Lambda, the PF1500B-360, is for high voltage distributed power architectures
More details...
Power Electronics Europe News
Powerbox says wide input DC/DC converters shorten time to market
The wide input voltage range of 40 to 100W board-mounted DC/DC converters have a wide input voltage range of 14 to 160V and 9.0 to 75V. The PQAE40U (40W), PQAE60U (60W) and PQAE100U (100W) provide a single part number that is able to power applications as diverse as railway, industrial automation, automotive and remote radio-control), to reducing inventory, time to market and documentation.
The modules meet thermal shock and vibration requirements as specified in EN61373 and MIL-STD-810F, and also meet the fire and smoke EN45545-2 standard.
Operating temperature range is -40 to 105°C case temperature for rugged environments such as construction vehicles, mining equipment and heavy machinery process control.
Designers in the railway industry require a power architecture that operates within the EN50155 input voltage range, from 24 to 110V, including continuous operation in the 14.4V brownout condition and 154V transients.
The DC/DC converters deliver full and stable power within an extended input voltage range from 14 up to 160V. For lower bus voltages, the 9.0 to 75V versions cover the main battery voltages, sustaining peak voltage and continuous operation up to 75V.
The PQAE40, PQAE60 and PQAE100U are available in seven output voltages (5.0, 12, 15, 24, 28, 48 and 53V). The 53V specification is particularly suitable for PoE and the 28V for defence applications. Efficiency is up to 90%.
All models have over voltage, short-circuit, over load protection and thermal shutdown. They also operate at a fixed switching frequency and including PI type input filters.
The DC/DC converters are available in an industry standard quarter-brick (36.8 x 57.9 x 12.7mm or 1.45 x 2.28 x 0.50-inches).
Units are housed in a plastic case with an aluminium baseplate and are potted with a UL94-V0 silicon compound.
Four optional heatsinks with different height and airflow orientations are available on request.
The 9.0 to 75V DC modules feature an input to output basic insulation of 2,250V DC and the 14 to 160V DC modules have a reinforced insulation of 3,000V AC.
The DC/DC converters are RoHS-compliant.
View PDF