Features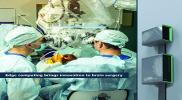 Edge Computing Leverages Modular Power in Scalable Micro Data Centres - May 2022
Edge computing is essential to realizing the full potential of artificial intelligence (AI), machine learning and internet of things (IoT). These technologies are being infused into every corner of...
More details...
Power Electronics Europe News
The dimmable drivers that support motion sensing for LED lighting applications are now available from UK distributor, Ideal Power.
The compact drivers are supplied ready to connect a motion sensor for fast and reliable proximity activation, says the company. They can be used for interior or exterior lighting in warehouses, passageways, schools, parking lots, supermarkets, and office buildings. For installation flexibility, the sensor can be connected to the driver's AC or DC side.
The dimmable LED drivers cover 12 to 30W. They are supplied in a form factor measuring 288 x 30 x 28mm. Power factor is up to 0.9 and efficiency is up to 86%.
The drivers integrate over-voltage and short-circuit protection with automatic recovery for minimal disruption during operation. There is a selection of output voltages available: 24 to 40V, 27 to 40V and 36 to 50V for use with lights of various sizes and LED string lengths.
Ideal Power offers Xelite drivers, including the XT-GR. The portfolio supports major dimming techniques including DALI, 1-10V, and ZigBee. The products are manufactured in Xelite's ISO 9001-accredited factory in Guangdong, China. All models are certified in accordance with international standards including CE.
View PDF