Features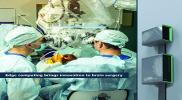 Edge Computing Leverages Modular Power in Scalable Micro Data Centres - May 2022
Edge computing is essential to realizing the full potential of artificial intelligence (AI), machine learning and internet of things (IoT). These technologies are being infused into every corner of...
More details...
Power Electronics Europe News
Proton-Electrotex showcases integrated diode and thyristor modules
The single-component diode and thyristor modules has a 50mm wide baseplate and is designed for easy mounting. Key features are pressure contact technology and an electrically insulated baseplate (3kV AC, 50Hz, 1min) with a 7kV AC version available on request. Partial discharge is less than 10 pC (2860V).
The company also introduced a modified version of the full-SiC module MCDA, with an SiC MOSFET and SiC Schottky barrier diode. This has low stray inductance of less than 10nH and is supplied in a standard footprint.
The module uses switching cell topology and is available as an H-bridge (250A) or phase leg (500A) version.
It also has low RDS on of less than 3.5mΩ and a low die thermal coupling.
The module (pictured) is supplied in a standard footprint and is characterised by low conduction and low switching losses, says the company. It also has fast and clean switching with minimum voltage overshoot and ringing, high thermal performance and high thermal cycling performance.
The company also presented two papers at the conference. Lead research engineer of Proton-Electrotex, D Malyy, presented "Fast Switching yet Cost Effective: Ultra-Fast IGBT Modules Compete SiC in High-Frequency Applications", and new technology engineer, D Titushkin, held a poster session, entitled "High Voltage Thyristors with Self-protection Elements in Cases Beyond Safe Operation Mode".
View PDF