Features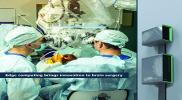 Edge Computing Leverages Modular Power in Scalable Micro Data Centres - May 2022
Edge computing is essential to realizing the full potential of artificial intelligence (AI), machine learning and internet of things (IoT). These technologies are being infused into every corner of...
More details...
Power Electronics Europe News
Three series of DC/DC converters have 2xMOPP medical approvals
Three families of board mount DC/DC converters, the PMM15, PMM20 and PM30 are certified to the third edition of the IEC/EN/ANSI/AAMI ES 60601-1 medical safety standard and rated for the highest levels of patient protection - 2x means of patient protection (MOPP).
The 15, 20 and 30W DC/DC converters have a clearance and creepage distance of 8mm, a typical leakage current of 2µA and a 5,000V AC isolation voltage.
The models are available in two input options (2:1 and 4:1) versions in 9.0 to 18, 18 to 36 and 37 to 75V and 9.0 to 36 and 18 to 75V input respectively and seven output voltages from 5.0 to ±15V. The power converters are covered by a five year warranty.
In countries such as China or in South America, healthcare centres and hospitals are located at altitudes higher than 3,000m. Medical equipment must be designed to guarantee the highest level of safety up to 5,000m. The PMM15, PMM20 and PMM30 have been designed for these altitudes and comply with the Chinese Safety Standard GB 4943.1-2011 requirement for operation at altitude.
No minimum load is required and tight regulation from no load to full load of ±0.2% on single output, and ±0.5% on dual output is provided.
Efficiency is up to 90% and the DC/DC converters can be operated within an ambient temperature of -40 to 105°C. In the case of natural convection a derating may apply. In cases of excess of heat, an internal over-temperature protection is set at 115°C case.
The models have over-voltage, under-voltage, over-load and short circuit and thermal-shutdown.
The PMM15 and PMM20 are supplied in a non-conductive black plastic housing and potted with a UL94-V0 silicon compound and measure 40.6 x 25.4 x 10.2mm (1.6 x 1 x 0.4-inch) and weigh 24g. The PMM30 is available in a 50.8 x 25.4 x 10.2mm (2.0 x 1.0 x 0.4-inch) housing and weighs 32g.
Without using external components, the PMM15, PMM20 and PMM30 meet EMI levels as specified by EN55011, EN55032 and FCC Part 18, Class A.
According to the MIL-HDBK-217F, at full load and 25°C, the PMM15, PMM20 have an MTBF of 2 million hours, and the PMM30 1.1 million hours.
An optional remote control pin for positive logic and for negative logic is available to externally control on/off. All single output voltage modules can be externally adjusted up and down by adding a resistor bridge connected to the trimming pin.
In addition to medical uses, such as home healthcare auxiliary equipment, ultrasound, assisted ventilation, infusion pumps, dental chair and supervisory systems, they can be used in industrial applications, where it can be used as an inexpensive way to add an IGBT drive channel to any industrial power supply.
View PDF