Features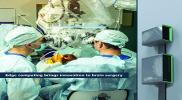 Edge Computing Leverages Modular Power in Scalable Micro Data Centres - May 2022
Edge computing is essential to realizing the full potential of artificial intelligence (AI), machine learning and internet of things (IoT). These technologies are being infused into every corner of...
More details...
Power Electronics Europe News
Infineon offers OptiMOS 5 25V and 30V devices in PQFN 2x2 package
The PQFN 2.0 x 2.0mm
2
OptiMOS 5 25V (ISK024NE2LM5) and 30V (ISK036N03LM5) devices have been optimised for synchronous rectification in SMPS (switched mode power supplies) for servers, telecomms bricks, portable chargers and wireless charging. The power MOSFETs are also suitable for
electronic speed controls (ESC) for small brushless motors in drones that require smaller form factors and lighter components.
According to the company, the PQFN 2x2 devices deliver a new power density and energy efficient dimension with the industry's lowest on-state resistance. The 2.0 x 2.0mm2 package footprint saves space for PCB layout routing flexibility.
In addition to electrical performance, the MOSFETs contribute to the power density while the reduced system temperature and improved performance provide a more relaxed thermal management, adds the company.
The OptiMOS 5 25V ISK024NE2LM5 with RDS(on) of 2.4mΩ and the 30V ISK036N03LM5 model with RDS (on) of 3.6mΩ are commercially available now.
View PDF