Features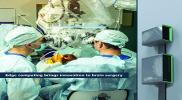 Edge Computing Leverages Modular Power in Scalable Micro Data Centres - May 2022
Edge computing is essential to realizing the full potential of artificial intelligence (AI), machine learning and internet of things (IoT). These technologies are being infused into every corner of...
More details...
Power Electronics Europe News
Panasonic extends CC series with normally closed PhotoMOS relay
Following the introduction of the normally open (NO) relays in the CC series, the company has released NC (normally closed) versions of the miniature PhotoMOS relays in TSON packages.
The package size is one-eighth that of a SOP4, says Panasonic Industry Europe's Michael Renner, and one tenth its current consumption. The space and energy saving will be attractive for telecommunications, measurement or medical equipment.
The TSON types' galvanic isolation between input and output capacitive rather than optics which enables a significantly smaller design but also offers considerable advantages in the temperature range, the drive power and the switching times, according to the company. The new TSON relays can be used in working conditions with up to 105°C ambient temperature. The current required for control is typically as low as 0.04mA and the input can be operated directly with voltages of typically 3.3V in. A series resistor, typically required by PhotoMOS devices, is not required.
View PDF