Features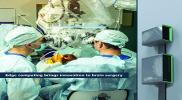 Edge Computing Leverages Modular Power in Scalable Micro Data Centres - May 2022
Edge computing is essential to realizing the full potential of artificial intelligence (AI), machine learning and internet of things (IoT). These technologies are being infused into every corner of...
More details...
Power Electronics Europe News
Integrated FETs use 25V technology to boost efficiency
The AONX38168 is the newest generation of XSPairFETs, offering the lowest on-state resistance and best Figure of Merits (Rdson x Qg), suitable for server and telecommunications applications. It allows new designs to operate at higher switching frequencies, says the company.


The device includes a low-side and high-side MOSFET in a leadless surface mount package, with a 5.0 x 6.0mm outline.
The AONX38168 uses 25V n-channel MOSFET technology. The XSPairFET includes the low-side and high-side MOSFET in a leadless surface mount package, for synchronous DC/DC converter applications.
The MOSFET is designed with the latest bottom source packaging technology which has a lower switch node ringing due to lower parasitic inductance. It offers a higher power density comparative to existing solutions, and is well suited for server and telecommunication markets. The XSPairFET has bottom source connection for the low-side MOSFET which can result in improved thermal performance, simplified layout, and reduced EMI, claims the company.
The AONX38168 is immediately available in production quantities with a lead-time of 12 to 14 weeks.