Features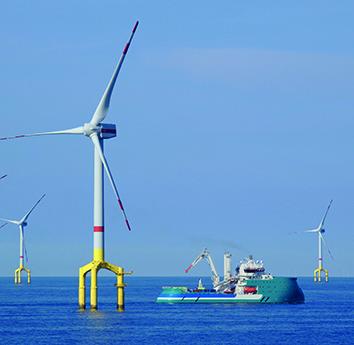 Technologies to harness wind power for net zero - September 2023
The offshore wind industry has a major role to play in reducing carbon emissions, but the industry faces a number of challenges. ABB Energy Industries discusses some technology developments which are...
More details...
AC/DC power factor correction module offers up to 1,512W
A full brick package developed by TDK-Lambda, the PF1500B-360, is for high voltage distributed power architectures
More details...
Power Electronics Europe News
Dual-, single-phase bridge and single-switch topologies broaden portfolio
The additions include ThunderFET power MOSFETs and standard, FRED Pt, and Trench MOS Barrier Schottky (TMBS) diodes in dual-, single-phase bridge, and single-switch topologies with a variety of current and voltage ratings.
The VS-FC420SA15 and VS-FC270SA20 single-switch modules feature ThunderFET power MOSFETs and are the company's first with voltages of 150 and 200V, respectively. They are designed for high performance DC/DC converters, battery chargers, AC motor drives, and UPS. They offer current to 400A, low on-resistance down to 1.93mΩ at 10V and gate charge of 250nC.
The company has also introduced its first 1200V insulated standard recovery rectifier modules in the SOT-227 package, the VS-RA160FA120 and VS-RA220FA120. They are optimised for OR-ing applications in electric vehicle chargers and single- and three-phase bridges. The dual devices feature high forward current to 220A, low 0.26°C/W junction to case thermal resistance, and low forward voltage drop down to 1.22V.
The VS-UFH280FA30 insulated Hyperfast rectifier module is the company's first to feature 300V in a dual topology. The VS-UFH60BA65 is its first Ultrafast single-phase bridge device. Both feature FRED Pt diodes, soft recovery characteristics and fast reverse recovery. They are intended for low voltage, high frequency inverters times down to 58ns, and current to 280A, and are suitable for UPS and output rectification for charging stations and switch mode power supplies.
For high frequency switch mode power supplies, DC/DC converters, and plasma cutters, the VS-QA300FA17 insulated TMBS rectifier module is the company's first with a 170V rating. Offered in a dual topology, they feature current of 300A, low forward voltage of 0.98V at 200A, and low junction to case thermal resistance of 0.26°C/W per leg (0.13°C/W per module).
The power MOSFET, Hyperfast, and TMBS modules provide high temperature performance to 175°C, whereas, points out the company, competing devices typically offer operating temperatures to 150°. The devices are RoHS-compliant and UL-approved.
View PDF