Features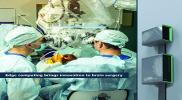 Edge Computing Leverages Modular Power in Scalable Micro Data Centres - May 2022
Edge computing is essential to realizing the full potential of artificial intelligence (AI), machine learning and internet of things (IoT). These technologies are being infused into every corner of...
More details...
Power Electronics Europe News
Transceivers are enhanced for multi-mic, in-vehicle applications
The transceivers offers configurable transmit power levels, enabling the developer to match system performance to specific OEM EMC requirements, which is a key design criterion for all feature-rich automotive infotainment systems. The transceivers also allow expanded use cases for microphone connectivity, significantly reducing cabling complexity by distributing audio and control data, plus clock and power, over a single, unshielded twisted-pair wire to lower system cost and to meet emerging multi-mic applications such as road noise cancellation, in-car communications, and autonomous driving.
The AD2426W, AD2427W and AD2428W are pin-compatible with existing series members to simplify upgrades and speed time to market.
The A2B technology is a digital audio interconnect that offers a deterministic, scalable and cost-effective means to address the rigorous performance requirements of next generation, latency-sensitive audio and voice applications, explains the company. The enhanced AD242x devices are capable of routing data from up to four PDM microphones to the local I2S port for beam-forming or other local data processing. Further enhancements to the AD242x allow for concurrently receiving up to four PDM mic inputs plus an additional I2S audio stream.
The AD2426W, AD2427W and AD2428W are compliant with all relevant automotive EMC, EMI and ESD requirements, are fully AEC-Q100 qualified, and operate over the extended automotive temperature range (-40 to 105℃).
They are released to production and are available now in a 32-lead LFCSP (5.0 x 5.0mm) package and supported within the company's SigmaStudio graphical development environment and ecosystem of third party development, prototyping, and evaluation solutions.
View PDF