Features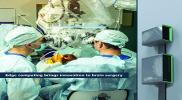 Edge Computing Leverages Modular Power in Scalable Micro Data Centres - May 2022
Edge computing is essential to realizing the full potential of artificial intelligence (AI), machine learning and internet of things (IoT). These technologies are being infused into every corner of...
More details...
Power Electronics Europe News
Electronic fuse extends overload protection
STMicroelectronics says that it sustains up to 4A continuous current over an operating input range of 8.0 to 48V. Insertion loss is low due to the integrated low-RDS(ON) VIPower MOSFET, adds the company.
When connected in series to the main power rail, the fuse protects the load against over-current and over-voltage. The voltage is clamped to a user-defined maximum, preset with external resistors. Current is restricted to the programmed safe limit by controlling the internal power MOSFET It folds back to a lower limit if a strong over-current or short-circuit is detected.
The BCD8 high-voltage process integrates features such as dV/dt control to prevent excessive inrush current during start-up or hot-swap insertion. This slows the output-voltage ramp-up time to at least 3.0ms, which can be increased if required by connecting an external capacitor. Programmable under-voltage lockout (UVLO) is also set using external components, to allow the user to fine-tune the voltage-rail minimum value to suit the load requirements.
Other features are thermal shutdown with latching or auto-retry, and maximum dissipated-power protection, both preventing high power from damaging the fuse when starting up into heavy capacitive loads, or during large load transients or short-circuits at high voltage. There is also a power-good indicator, and an enable/fault pin that can be used as either a status monitor or to control the device. A dedicated gate-driver output controls an external N-channel MOSFET to implement reverse-current protection.
The fuse can be used to protect industrial hot-swap boards and control equipment, circuit breakers, power buses, security or lighting systems, telecom power modules, or distributed power systems.
It is available now in 14-pin HTSSOP14 package.
View PDF