Features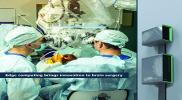 Edge Computing Leverages Modular Power in Scalable Micro Data Centres - May 2022
Edge computing is essential to realizing the full potential of artificial intelligence (AI), machine learning and internet of things (IoT). These technologies are being infused into every corner of...
More details...
Power Electronics Europe News
IC for power supply and lighting drivers integrates PFC
Designed for LED drivers for professional and industrial lighting, and street lighting,
the
ICL5102 can also be used for offline AC-DC power supplies and LCD TVs.


The resonant controller IC integrates power factor correction (PFC) and half-bridge (HB) controllers in a single DSO-16 package. It supports universal input ranging from 70 to 325V AC and a wide output range, says the company. Few external components are required to configure and support the IC, with all parameters set by resistors.
Start-up is fast, less than 500ms at less than 100μA. The PFC is greater than 99% and total harmonic distortion (THD) is less than 3.5%. The controller has up to 94% efficiency by resonant topology with active burst mode for low standby consuming less than 300mW. An enable/disable function supports dimming.
The PFC controller features brownout detection, adjustable THD for light load operation, and high PFC. Due to the high accuracy of bus voltage sensing, only four pins are required for PFC action, notes the company. The resonant HB controller has an integrated 650V high-side driver using an internal coreless transformer with self-adaptive dead time ranging between 250 and 750ns, and an operating frequency up to 500kHz. The IC can detect overload, short circuit, bus, HB or output under- and over-voltage as well as over-temperature. An integrated capacitive mode regulator prevents operation in capacitive mode. All protection features use auto restart (no latch).
Engineering samples and a reference design, REF-ICL5102-U130W-CC, are available now. Full production and shipment will start in Q2 2018.
View PDF