Features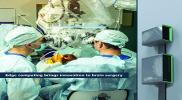 Edge Computing Leverages Modular Power in Scalable Micro Data Centres - May 2022
Edge computing is essential to realizing the full potential of artificial intelligence (AI), machine learning and internet of things (IoT). These technologies are being infused into every corner of...
More details...
Power Electronics Europe News
Integrated 1200V SiC FETs target EVs
No change in gate drive circuitry is required, according to UnitedSiC. The UJ3C1200 series of SiC JFET cascodes have a voltage rating of 1200V and on resistances of 80 and 40m
Ω
and are designed as a drop-in replacement for many existing IGBT, Si-MOSFET and SiC-MOSFET parts, with no change to gate drive circuitry, says the company.
As well as upgrading designs, the JFET cascodes can improve efficiency and/or power density in on-board EV chargers, PV inverters and battery charging for forklifts.

Based on the company's Generation 3 SiC transistor technology, the cascodes integrate an SiC JFET with a custom-designed Si-MOSFET to combine the normally off operation, high performance body diode and gate drive of the MOSFET with the efficiency, speed and high temperature rating of the SiC JFET. According to the company, this results in a performance increase in existing systems, with lower conduction and switching losses, enhanced thermal properties and integrated gate ESD protection.
In new designs, says the company, the devices deliver increased switching frequencies for efficiency and reduced size and cost of passive components, such as magnetics and capacitors.
The FETs are available now from licensed distributors.

UnitedSiC are at PCIM 2018 on the ECOMAL Europe stand – hall 7, stand 406



View PDF