Features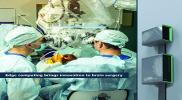 Edge Computing Leverages Modular Power in Scalable Micro Data Centres - May 2022
Edge computing is essential to realizing the full potential of artificial intelligence (AI), machine learning and internet of things (IoT). These technologies are being infused into every corner of...
More details...
Power Electronics Europe News
RF transceiver accelerates basestation development
Added to the
RadioVerse
technology and design ecosystem, the
ADRV9009 RF transceiver delivers twice the bandwidth (200MHz) of previous generation devices and replaces as many as 20 components, halving power and package size by 60%.

The RF transceiver provides designers with a single radio platform to accelerate the deployment of 5G, sustain 2G/3G/4G coverage, and simplify phased array radar design, says Analog Devices. The ADRV9009 RF transceiver meets the rigorous antenna density and expanded network capacity requirements of emerging 5G wireless infrastructure equipment and aerospace and defense systems.
The ADRV9009 is believed to be the industry's first RF transceiver to support all existing cellular standards. The device is tunable over a range of 75MHz to 6.0GHz supporting 2G/3G/4G/5G services. Cellular equipment manufacturers can therefore adopt a single, compact radio design across all band and power variants to reduce product design times by up to 50%, while simplifying the deployment and maintenance of multi-band, multi-standard communications equipment.
The ADRV9009 has a wide bandwidth, low power and small form factor, enabling designers to meet the escalating radio-channel-count requirements of 5G massive MIMO equipment. The RF transceiver is a single-chip TDD solution that can also be used in the design of portable, laboratory grade 5G test and measurement devices which are required for field testing of cellular and IoT networks.
For aerospace and defence systems, the ADRV9009 addresses the high-performance requirements of both wideband and narrowband applications such as military communications and signal intelligence. The RF transceiver platform also features fast frequency hopping for enhanced link security and spectrum efficiency.
For both advanced cellular and phased array radar systems, the ADRV9009 simplifies digital beamforming design by handling local oscillator synchronisation on-chip, eliminating the need for external LOs.
RadioVerse design and technology ecosystem accelerates advanced radio design and development and includes integrated radio platforms, software tools, evaluation and prototyping platforms, a range of reference designs, and full radio solutions. To accelerate customers' time to market with the ADRV9009 RF transceiver, the RadioVerse ecosystem provides a JESD204B FPGA integration framework, a production-ready RF system-on-module (RF-SoM) with dual ADRV9009 devices, and a global partnership network to provide customers additional design and technical services.
View PDF