Features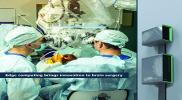 Edge Computing Leverages Modular Power in Scalable Micro Data Centres - May 2022
Edge computing is essential to realizing the full potential of artificial intelligence (AI), machine learning and internet of things (IoT). These technologies are being infused into every corner of...
More details...
Power Electronics Europe News
LFPAK56 MOSFETs are compatible with Power-SO8 footprint
The LFPAK56-packaged MOSFETs are now available with improved creepage and clearance to meet UL2595 requirements for battery-powered equipment rated between 15 and 32V. Devices are compatible with the industry-standard Power-SO8 footprint. According to the company, these are the first compact, surface-mount devices to meet UL2595, a standard which calls for minimum creepage and clearance distances of 1.5mm between source and drain terminals.
While other Power-SO8 types use wire bonding, Nexperia's LFPAK56 package uses a copper clip which is soldered in a single operation to the surface of the die. This reduces spreading resistance and gives the LFPAK56 superior electrical and thermal characteristics as well as increased reliability, says the company.
The PSMN0R9-30ULD and PSMN1R0-40ULD N-channel MOSFETs are offered in the enhanced SOT1023A package and feature a creepage distance of 1.5mm and a clearance distance of 1.55mm. The PSMN0R9-30ULD device is rated at 30V, offering 0.87mΩ and 300A, the PSMN1R0-40ULD is rated at 40V, with 1.1mΩ and 280A.
The company reasons that US standard UL2595 could be adopted by other international regulatory bodies as, equipment manufacturers prefer to design one global product that meets the toughest standard, rather than have multiple versions for different geographic locations. Designers need to be aware regular Power-SO8 devices will not pass UL2595, but that the PSMN0R9-30ULD and PSMN0R9-40ULD MOSFETs are compliant, drop-in replacements.
The PSMN0R9-30ULD and PSMN0R9-40ULD MOSFETs are part of Nexperia's NextPowerS3 family of devices that offer a combination of low RDS(on), high maximum current and strong safe operating area (SOA), for battery-powered motor control applications.
View PDF