Features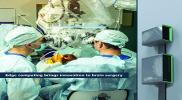 Edge Computing Leverages Modular Power in Scalable Micro Data Centres - May 2022
Edge computing is essential to realizing the full potential of artificial intelligence (AI), machine learning and internet of things (IoT). These technologies are being infused into every corner of...
More details...
Power Electronics Europe News
Recom adds 1W DC/DC converters with dual outputs
The DC/DC converter series is suited to EIA/TIA-232 bus isolation and a range of industrial automation control equipment, sensors, isolated operational amplifiers and test and measurement equipment that require bipolar supply voltages.
The open-frame, surface mount converters deliver stable performance on symmetric dual outputs at a very competitive price, says the company. They operate from 5.0V and offer ±5, ±9, ±12 or ±15 dual outputs. There is no minimum load required, and the quiescent consumption is less than 150mW.
The pin-out is industry standard and compatible with the company's R1S/R1D series. High isolation of up to 3kVDC (/H option) makes them suitable for isolating data transfer lines in legacy communication protocols (e.g. RS-232) and for isolated DAC and sensor applications. The modules operate at a wide temperature range from -40 to 95°C without derating and can drive up to ±1000µF capacitive loads, which is multiple times higher than the competition, according to the company.
The converters are certified to IEC/UL/EN62368-1 and UL60950-1 and conforms to 10/10 RoHS. Class A EMC conformity requires only an input capacitor and a low cost LC filter for Class B EMC.
Samples are now available from authorised distributors.
View PDF