Features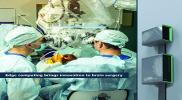 Edge Computing Leverages Modular Power in Scalable Micro Data Centres - May 2022
Edge computing is essential to realizing the full potential of artificial intelligence (AI), machine learning and internet of things (IoT). These technologies are being infused into every corner of...
More details...
Power Electronics Europe News
Integrated DC/DC step-down power module suits constrained spaces
The DC/DC module integrates power MOSFETs and shielded inductors into a small, low-profile footprint for PoL telecommunications, networking, test and measurement power supplies and other space- and height-constrained applications.
The module maintains the required 6A output current over the full temperature range without additional airflow through the use of a two-phase control topology that shares the load between the phases for efficiency and balanced operation. Thermal-good output to alert the system to reduce power before overheating.
There is also adjustable soft start, voltage select (VSEL) to support multiple processor stages, and a power-good indicator. An optional automatic power-save mode maintains high efficiency across the full load range.
Two I/O capacitors and two resistors make up a footprint of 80mm2 that measures just 1.5mm in height.
Prototype samples are available now in a 24-pin quad flat micro (QFM) MicroSIP package. There is also the TPSM82480EVM-002 evaluation module and PSpice transient models available for download.
View PDF